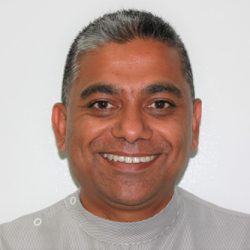 Dr Priyesh Shah
Principal Dentist
Dr. Priyesh Shah is a graduate from the University of London (1999). Since graduation, Priyesh has worked in general practices in the UK and Brisbane where he has gained a wide range of experience in the dental field. He has also worked closely with specialists in various fields to increase his own development. He has taken further training in Orthodontics and Dental Implants and continues to broaden his skills in all new dental treatments by attending various courses and seminars throughout the year.
In 2006, Priyesh, together with his family moved to a new life in Brisbane where he and his wife had visions of bringing up their 2 children in a more relaxed and warmer climate and to fulfill their personal ambitions. One of which was owning their dental practice. An opportunity came up to purchase Southside Friendly Dental Care and Priyesh felt it was the type of practice where he could develop his skills and adhere to the morals and beliefs that he had built up during his working life.
Priyesh aspires to provide value for money, honest, ethical & high-quality dentistry because ultimately "IT'S ALL ABOUT YOU"!