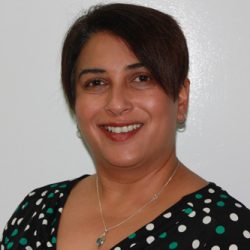 Amisha Shah
Director
Amisha is Dr Shah's wife and a Director at SFDC. When Dr Shah began pursuing his dream of managing his own dental practice, Amisha came on board the dental profession. She now helps manage the day to day running of the practice and is continuing to improve her knowledge of the dental world.
12 years in, she is still enjoying the challenges of business and dental, a world apart from the teaching career she left behind. Amisha graduated with an Honours Degree in Education, Geography and Physical Education a qualification that guided her to a career in the classroom teaching Grades 3 to 6 in the UK for over 10 years.
Amisha has a keen interest in Tennis and is inspired by Roger Federer. She also follows her beloved Liverpool FC in the EPL soccer league and enjoys spending time traveling with Dr Shah and their 2 children.
Amisha and Dr Shah strive to be excellent role models to their children and hope to inspire them to be 'The best they can be'.